The National Child Traumatic Stress Network reports that at least 25% of American students have been affected by trauma, a number that has risen due to the COVID-19 pandemic.
Whether you are a special education teacher, paraprofessional, therapist, or parent, it is imperative to gain knowledge about trauma and incorporate trauma-informed practices into the classroom. Regrettably, trauma represents a significant health crisis affecting both children and educators today. This integration will not only aid students in managing their emotions, by boosting their self-esteem but also contribute to their overall success.
What Is Trauma?
Before we move into how to tackle trauma responses in school, you must first learn what trauma means.
Trauma refers to psychological and physiological responses to distressing experiences or a series of events that jeopardize an individual's actual or perceived sense of safety. This situation might go to an extent that exceeds their capacity to cope in healthy ways. Furthermore, children exposed to abuse or trauma may encounter difficulties in regulating their emotions, be more susceptible to anxiety and depression, struggle to form relationships, exhibit school or home refusal, and display aggressive behavior.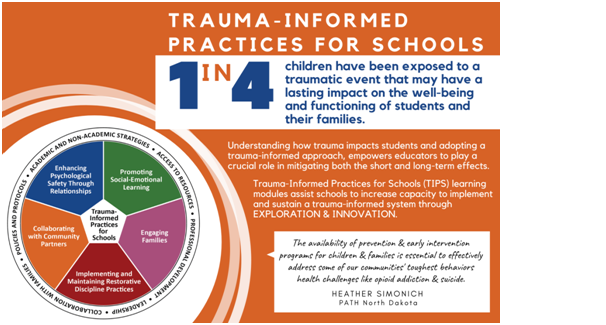 Source: ndrea.org
Trauma can slow down or completely stop a student's ability to learn. When they experience such situations, they get distracted or might take longer to complete their tasks. Some students might also become restless and jumpy. Most situations can recover from such events within a few weeks or months. But chronic trauma can put the brain on high alert thus always looking for the next threat.
The Relation Between Trauma And Learning And Thinking Differences
Researchers agree that a traumatic experience can negatively impact the attention and learning of students. however, whether it can cause ADHD and learning disabilities is not known yet.
Most students who have undergone something traumatic are often misidentified as ADHD and referred to special education classes. This approach is often considered correct as the symptoms of both cases often overlap. In both these conditions, children can be restless, hyperactive, disorganized, and might have trouble focusing in class.
Referring such students for an evaluation is always fruitful, provided that the evaluators are both experienced in ADHD and trauma.
Identifying Trauma In School
Unfortunately, identifying trauma can be challenging, mainly because the physical, emotional, cognitive, and social signs can vary widely. Additionally, this information is sensitive. So how do you know your student is dealing with something if they don't say it?
The first sign to look for is any kind of behavioral change. An outgoing student might become more reserved or an organized student might start missing assignments. It is crucial to note that a child displaying any type of behavioral issues might have something going on underneath.
Some of the potential signs of trauma include:
Aggression or negative outbursts
Overreactions to daily challenges
Appearing depressed and sad
Frequent headaches or stomach aches
Trouble with self-regulation, organization, and focus
Improper social interactions
Lagging with assignments and classwork.
These behaviors might also be due to anxiety, medical conditions, or learning disabilities. Thus diagnosis of the proper cause is crucial.
How To Use Trauma-Informed Teaching In Classrooms
As special educators, you are well aware of the importance of building positive relationships both with students and their families. A trauma-sensitive approach helps educators recognize that many of the challenging and persistent behaviors observed in their students are linked to overwhelming experiences of violence and other forms of relational trauma.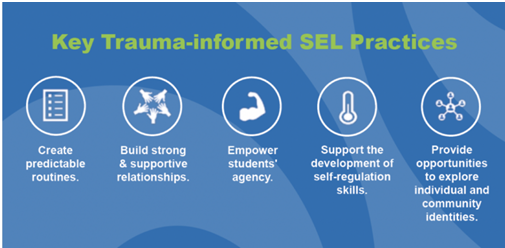 Source: afterschoolnetwork.org
Crucially, trauma-informed practices in special education aim to acknowledge the prevalence and impact of trauma and incorporate this understanding into teaching methods. It can also be a way of showing students that you care and will support them in recovery. Making simple changes in your daily class routine can help you achieve your goal.
Here are some strategies you can try:
Establish a predictable schedule and routine
Be mindful of your own emotions
Provide opportunities for self-regulation (e.g., teaching breathing techniques, using pressure techniques, and incorporating brain breaks)
Cultivate strong school-home partnerships
Creating a safe classroom environment
Provide space for them to relax and calm down
Increase student involvement in selecting content
Minimize exclusionary practices (e.g., avoiding sending students to the principal's office or taking away incentives)
Display a predictable schedule and routine visibly in the classroom
Communicate with the parents to let them know about your ideas and student progress
Model and teach social and emotional skills
Ask the school counselor for recommendations, help, and support
How You Can Build Trust And Empower Your Students
Building trust among students requires self-regulation and self-awareness. You might sometimes feel overwhelmed and exhausted, you are only human.
In such cases, here are some philosophies that you might try:
Respond Not React
When things get tough, which is most likely to happen, try to take a few deep breaths and think the situation through before dealing with the situation. This will allow you to calm down and think logically and rationally allowing you to give appropriate responses.
Model Behaviour Yourself
While teaching your students appropriate measures to deal with trauma, it is essential to model such behavior yourself. Demonstrate the power of choice that they can use to respond to real-life situations that are not under their control.
Connect Before Correct
For your students to listen to you, you must first connect with them and build a good rapport. Emphasize the value of friendship and good bonds and then offer evaluative feedback so that they can improve.
Support Your Students To Become Positive Individuals
Incorporating self-regulation strategies into the classroom equips students with skills to manage their emotions. Teachers should emphasize proper usage by modeling these strategies. Furthermore, trauma-sensitive practices make educational opportunities more accessible to students. To stay more informed, you can pursue special education courses in UAE or your residing location. This will allow you to acquire specific skills required to change students' lives.