Thailand, also known as the 'Land of a Thousand Smiles' is one of the most visited countries in Southeast Asia for tourism. With beautiful beaches, stunning architecture, amazing forests, and world-class shopping, it can be a fulfilling teaching career abroad. Apart from this, the country also offers numerous teaching job opportunities making it a perfect place to live and work.
While English teaching in Thailand seems like a dream, is it a viable job opportunity? Well, the answer is yes! Amidst all the beaches and shopping sprees you can find a great opportunity to do what you love and survive. All you need is the right set of credentials, qualifications, and passion.
Are There Any Educational Requirements for Teaching English in Thailand?
If you are seeking to be a part of the nation's vibrant teaching community, here is what you need to possess before embarking on your teaching in Thailand adventure.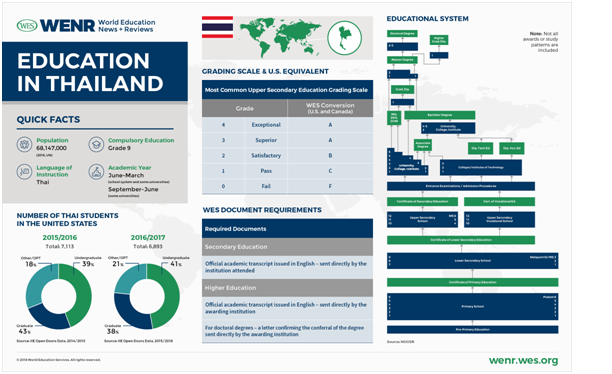 Source: wenr.wes.org
As an ideal candidate, you must:
Be a graduate from a recognized board or university with at least a bachelor's degree
Be a citizen of a native English-speaking country or have near-native proficiency
Have completed 120 hours of TEFL course from a globally recognized institution (for English teaching)
TOEIC score above 600 or the IELTS band of 5.5 and above
Teaching licenses in English like B.Ed, M.Ed, or equivalent
Teaching experience of 1-2 years (preferred)
Under the age of 60 (government institutions)
Visa Requirements To Teach English In Thailand
Visa requirements for Thailand are a little different from other countries as there is no specific type that allows foreign nationals to legally work in Thailand. Your type of visa will depend on factors like the type of teaching job you will be doing, your nationality, and whether you got the job before your arrival to the country or did you get one locally get hired.
Thus, here is a list of documents you will need to avail before being able to set foot in the country to legally teach.
Before crossing the threshold of Thailand, as an expat, you need to secure a non-immigrant visa. However, even though it is issued for work purposes, you cannot actually work with just this visa and you need to apply for a work permit. Here is everything you need to obtain a non-immigrant visa:
A valid passport of at least 6 months and 2 full blank pages
Passport sized photos
Original and copy of your bachelor's degree or highest qualification
Certificate of criminal background check
Visa application fees (might vary from country to country)
Contract and other documents to be provided by your employer
They usually vary across consulates and embassies across different countries and hence you should check with your local consulate or embassy about the specific criteria and documents.
Once you are the holder of a 'B' visa you now need to apply for a work permit upon your arrival in the country. You must have the following to avail of a work permit:
Your passport and the B visa affixed
Passport sized photos
Original and copy of your bachelor's degree or highest qualification
A medical certificate issued by a doctor in Thailand
Proof of previous teaching experience (if required)
The validity of your work permit is 3 months and after acquiring this, your B visa will also be valid through the length of your work permit which is generally the length of the contract.
Now a B visa and work permit are not all, you will also need to apply for a temporary teaching license in Thailand unless you already have a degree in education. To acquire this you need:
Your passport and the B visa affixed
Passport sized photos
Official work permit
Original and copy of your bachelor's degree or highest qualification
Certificate of criminal background check
University transcripts
Your school will assist you with the visa application and the entire process of reaching and teaching in Thailand.
As of now, Thailand does not have a digital nomad visa as it was decimated between 2022 and mid-2022 due to COVID restrictions. However, there are still several options available for digital nomads to stay in the country for a period of 30 days to 20 years. All have different requirements and price points.
Where Can You Teach English In Thailand
Teaching English in Thailand can be a lucrative opportunity as you can save a hefty amount even if you are not budget-savvy. Thus, instead of scrolling Instagram drooling with jealousy, read about how this can be your life. Here are some of the prospects you can avail if you are desperate enough to secure an English teaching job in Thailand.
Public Schools
Private Language Academies
International Schools
Universities
Tutoring
Some of the most common teaching jobs that exist in Thailand include:
Primary and Kindergarten Teachers
Teacher Assistant
Kindergarten Homeroom Teacher
IELTS Teachers
Phonics Teachers
English Language Learning Coordinator
Learning Support Assistant
How To Land A Teaching Job In Thailand
Here are some hot tips to make the job searching process seamless for you:
Get at least a 120-hour TEFL certification if you have not already polished your resume.
Take refuge in one of the most popular websites like Ajarn, Craiglist Teach Abroad Thailand, Teaching Thailand, etc.
If you are focused to become a TEFL teacher then you can look for dedicated ESL-based sites like TEFL Heaven, Dave's ESL Cafe, Jobs DB, Thailand Jobs 77, Teachaway, TES, etc.
You can also take refuge in English newspapers like The Nation Job Ads or The Bangkok Post etc to scout available positions.
Best Places To Teach English In Thailand
From lush green fields to thrilling city vibes, here are some of the most awesome places you can indulge yourself in:
Located in the north this place is booming with expats as there are several teaching opportunities available, however, you will need some expertise in the conversational Thai language.
One of the most popular cities to teach due to its affordability, size, and public transport connectivity. Schools here hire on a short-term basis hence it is easy to try your hands here than going anywhere else.
Jobs in Krabi are like a vacation every day. So if you want to unwind after every hectic day, this will be your ideal destination.
This is an island with plenty of tourist opportunities and an international airport. White sand beaches, local food, and traditional markets are some of the best things you can find in Phuket.
Are You Ready For A New Adventure?
Thailand is a land hosting a myriad of schools, colleges, universities, and educational institutions making it easy for aspiring teachers to bag productive teaching prospects. Qualified and certified teachers are in huge demand hence there the nation is always looking for a way to fulfil its teacher shortages. If you already possess a Bachelor's degree then you can add to your credentials by pursuing internationally accredited TEFL courses in Thailand to be able to land high-paying jobs in Thailand and be immersed in the warm culture, meet some of the most authentic people, and be a part of one of the friendliest communities in the world.